Josh Weissbach. To all Those. Super 8 on 16mm. 6:48. 2020.
Up and Down the River
Saturday October 15, 2022
Curated by Sarah Bliss and David Bendiksen
An evening of artists' and experimental film on place and placemaking by local filmmakers living along the Connecticut River. The program of 11 short-form films celebrates (but isn't limited to!) work shot and screened on celluloid, bringing together rich and varied ways of perceiving and making place — the places where we live and love, places of our imaginary, places that have shaped us, confounded or intrigued us, places lost to us or which haunt us.
Live Q&A with the filmmakers follows the screening.
Masks encouraged but not required.
Suggested donation $5 - $15. No one turned away.
All this and more at one of our favorite local venues: the Montague Common Hall (the old Grange Hall on the Village Common, Montague, MA). Free parking on the street. Join us!
Please RSVP on the Facebook event page: https://www.facebook.com/events/3187427708147775?ref=newsfeed
PROGRAM: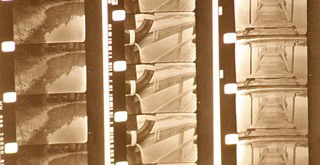 Down to the Water. Hand-processed 16mm. B&W, sound. 05:00. 2022.
David Bendiksen
A journey to the water, contemplating the meeting of water and land as a source of both tranquility and quiet vitality. Shot on the seacoast of Maine.
David Bendiksen is a filmmaker and teacher who believes in the expressive use of equipment, ideas, materials, and processes and in the rich chemical, optical, and mechanical aspects of analog filmmaking. As an interdisciplinary scholar, David has taught over a dozen different film-related courses across Film Studies, Comparative Literature, and French at the University of Massachusetts Amherst and Emerson College.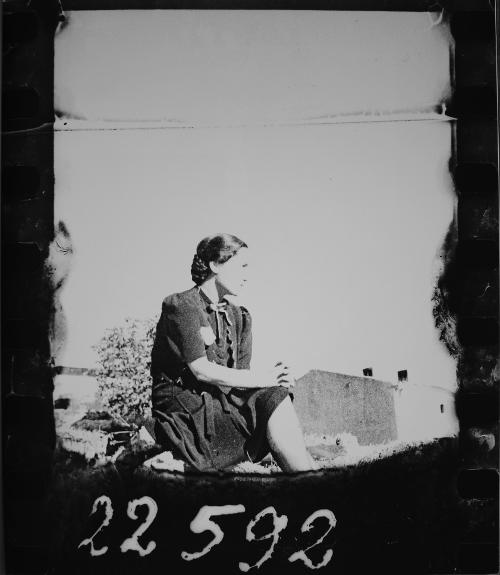 Lódz: 22592. HD. 22:06. 2019.
Abraham Ravett
A recently published book by Toronto's Art Gallery of Ontario, profiling the resurrected photographs made clandestinely by Henryk Ross (1910-1991) in Poland's Lodz ghetto, inspires the filmmaker to wonder once again, how his father survived those turbulent, WW II years in Poland. Filmed in the USA and Poland.
Abraham Ravett was born in Poland, raised in Israel and emigrated to the USA in 1955. He holds a BFA and MFA in filmmaking and Photography and has been an independent filmmaker and photographer for the past forty years He received grants for his work from the Massachusetts Cultural Council, LEF Foundation, National Foundation for Jewish Culture: Fund for Documentary Filmmaking, National Endowment for the Arts, The Japan Foundation, and a filmmaking fellowship from the John Simon Guggenheim Memorial Foundation. His films have been screened internationally including several one person shows at MOMA in New York .A retrospective of his films was shown in 2009 at the WRO Art Center, Wroclaw, Poiand and n December 2014 at Festival Film Dokumenter Yogyakarta , Indonesia. Abraham teaches filmmaking and photography at Hampshire College, Amherst, MA. USA.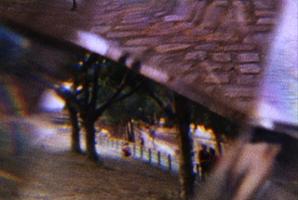 Decroux's Garden. 16mm, color, silent. 4:00. 2012
Baba Hillman
A return after many years to the home of a beloved teacher. I am less than a trace returning to this garden, but I am here and my heart turns, hearing again, though differently, the songs that hang here still, in the breath of this place. -------- How do we decipher the maps that memory and return trace upon the body and spirit? I'm interested in how moves between memory and return are lived on the body, how return to a place that was once beloved changes the shape that the tongue takes, the rhythm of the gait, the rhythm of the breath, how falling into memory is like entering another body.
Baba Hillman grew up in Japan, Venezuela and Panama and works between France and the U.S.. She received a B.A. in French Literature from Duke University and an M.F.A. in Film from the University of California, San Diego. Her films explore memory, history, perception, transience, and the poetics of place, language, and the body. The films have screened at festivals and museums including the Museum of Contemporary Art, Los Angeles, FIDMarseille, Edinburgh Film Festival, Rencontres Paris/Berlin, Ann Arbor Film Festival, Los Angeles Film Forum, Anthology Film Archives, Africa World Documentary Festival, Yaounde, and Athens Avant Garde Film Festival among others. She has received awards and grants from the French Ministry of Culture, the Whiting Foundation, the California Arts Council, and the Italian city governments of Florence, Lecce and Certaldo. Her work is distributed by Canyon Cinema, The Canadian Filmmakers Distribution Centre, and Collectif Jeune Cinéma in Paris. Hillman is Professor Emerita of Film and Video at Hampshire College.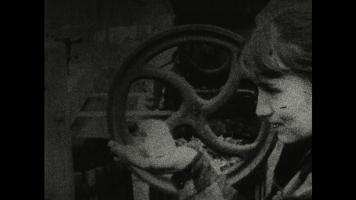 Quaker City Home Movies: Pressing Cider. Super 8 blown-up to 16mm, 2015, 3min., b&w, optical sound
Taylor Dunne
Pressing cider with the Pomona Harvesters on the Quaker City Land Trust in late fall 2009. Film processed on location, in a root cellar, with hand carried water and sunlight. Print and optical track made by hand. Soundtrack from The Ethnic Folkways Library, Music of the Ukraine.
Taylor Dunne is a filmmaker, educator and curator of moving image arts. She has an affinity for historic photographic processes, amateur film, the personal archive and the history of the cinematic apparatus. She uses these obsessions, and a wide range of media, to examine the intersection of time, history and landscape. Her films have been exhibited at the New York Film Festival, the Tribeca Film Festival, Crossroads Film and Video Festival (San Francisco), FOL: Experimental Film Society (Istanbul) and EXDOC (Paris). She has curated film programs for the Black Cube Artist Program, the Southern Colorado Film Festival, Experiments in Cinema Film Festival (Albuquerque) and Transient Visions: Festival of the Moving Image. Currently, she is producing her first feature length project, an essay film and digital archive that interrogates landscapes of nuclear weapons testing, manufacturing and anti-nuclear activism in the American Southwest. She earned a BA from Eugene Lang College of Liberal Arts at The New School (2007) and an MFA from the Department of Cinema Studies and Moving Image Arts at the University of Colorado at Boulder (2014).
Unless You're Living It. Hand processed 16mm transferred to HD. B&W, tinted and toned. 08:22. 2019.
Sarah Bliss
A portrait of place and power in rural white Ontario that challenges the correlation between seeing and knowing, and the ravages of late-stage capitalism. Hand processing, contact printing, tinting and toning engage the film as a body that, like the residents of Mt. Forest, sustains injuries, wounds and burdens, but also has the capacity for delight, revelatory pleasure, and transformation. With special thanks to Phil Hoffman and the 2016 Independent Imaging Retreat (Film Farm), where Unless You're Living It was shot and hand-processed.
Sarah Bliss is a filmmaker, artist, Buddhist practitioner and educator who facilitates presence and attunement with the sensate, desiring body. She works artisanally with hand-processed celluloid film to make experimental and documentary films, kinesthetic immersive installations, artist books and performance that engage personal and social history. Of particular interest is the relationship between creative practice and dharma practice, and the cultivation of eros. Her work is shared and screened internationally at museums, galleries, film festivals, microcinemas, and backyards. She's been recognized with fellowships from the Flaherty Seminar, the Massachusetts Cultural Council (2019 Film and Video finalist; 2013 New Media/Installation fellow), and Scotland's Alchemy Film Festival, is an Independent Imaging Retreat alum, and a recipient of a Lightpress Grant from the Interbay Cinema Society. She received a Masters in Theological Studies from Harvard Divinity School, teaches cameraless filmmaking, and is a member of Boston's AgX Film Collective.
To all Those. Super 8 on 16mm. 6:48. 2020
Josh Weissbach
A city symphony in miniature, dedicated to anyone who has gotten lost in thought while stuck on the midwinter train. to all that unfolds in those private reveries.
Josh is an experimental filmmaker. He lives in a house with his wife, two daughters, three cats, six chickens, and lab mix next to a once abandoned village. His films and videos have been shown worldwide in such venues as Ann Arbor Film Festival, Slamdance Film Festival, European Media Art Festival, Mono No Aware, Chicago Underground Film Festival, 25 FPS Festival, and Alchemy Film and Moving Image Festival. He has won jury prizes at Videoex, ICDOCS, $100 Film Festival, Onion City Experimental Film and Video Festival, Berlin Revolution Film Festival, and Haverhill Experimental Film Festival. He is the recipient of a 2021 Artistic Excellence Award from the Connecticut Office of the Arts, a 2020 Moving Image Fund Early Development Grant from the LEF Foundation, a 2018 LightPress Grant from the Interbay Cinema Society, a 2015 LEF Fellowship from the Robert Flaherty Film Seminar, a 2013 Mary L. Nohl Fellowship for Emerging Artists from the Greater Milwaukee Foundation, and a 2008 Cary Grant Film Award from the Princess Grace Foundation-USA.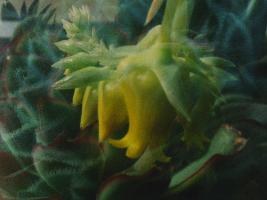 Helios. 16mm. Color. 5:02.
Eric Stewart
Time-lapses of cacti and succulent over the course of a year. Environmental data drives the tone and filtration of the sounds while the rising and setting of the sun illuminates the growth of plants moving in and out phase with one another.
Eric Stewart is an interdisciplinary multimedia artist and educator who works predominantly with 16mm film. His artistic practice invokes photochemical and darkroom processes to investigate landscape, place and cultural identity. He holds a BFA from the School of the Art Institute of Chicago, an MFA from the University of Colorado, Boulder. He is currently an Assistant Professor of Visual Communication at Landmark College.
Arcadia Rolls I + II. 16mm, color and b&w, silent, 5:00. 2017.
Josh Guilford
Notes from the field, where the field is the woods, and the woods are the mountains. Two from a set of camera rolls shot in the Arcadia Wildlife Sanctuary, a 720-acre conservation area located in Western Massachusetts. Shooting without thinking of the 'spiritual landscape' from which the sanctuary takes its name. Responding to trees, fronds; responding with the camera, to the camera. Each roll a document of that response.
Josh Guilford teaches at Amherst College. His films have screened at Ann Arbor Film Festival, Light Field, Film-Makers' Cooperative, Microscope Gallery, Revolutions Per Minute Festival, A Good Night's Sleep, and other venues.
Haunted. 16mm transferred to HD. 02:22. 2020
Danielle Vishlitzky
Shot in Northampton and Amherst, MA, Haunted is hand developed and computer edited. It is about making peace with the feeling of being haunted by people, places, and memories.
Danielle Vishlitzky graduated from Smith College in 2020 with a degree in Film & Media studies. She loves reading, podcasts, and all forms of storytelling, especially documentary. These days she can be found hiking and shooting 16mm near her home in Western Massachusetts. She hopes to keep exploring experimental filmmaking and the ways in which the spaces around her are haunted.
Histories of Simulated Intimacy. 16mm transferred to HD. 11:00. 2017.
Emily Drummer
"Great obstacles excite great passions; since eros consists not in possession but in wanting, what could stimulate eros more than distance and especially death, itself the ultimate distance?" (John Durham Peters, Speaking into the Air)
Histories of Simulated Intimacy is a sensory essay film that investigates the gaps in time and space produced by the technological mediation of human love and desire. Roving, dismembered voices – messages left for the filmmaker by former lovers, found voice messages made on gramophone discs – hunt for image-bodies, creating a simultaneous presence and absence: a woman carried gently by the flow of a Lazy River; the undulations of a darkened, glimmering dance party; memories and traces of the once massive Iowan prairies. The film explores polarities such as public and private, nature and culture, near and far, bios and techne, producing a space in which technologies of intimacy, separated by historical measurements of time, can coalesce in perpetuity.
Emily Drummer is a filmmaker who uses immersive research as a starting point to investigate the dynamic between technology and the natural world. She received her MFA in Film and Video Production from the University of Iowa and her BA from Hampshire College. She is a Princess Grace Film Honoraria recipient and a Flaherty Film Seminar fellow. Drummer's work has been showcased by venues including Art of the Real at the Film Society of Lincoln Center, London Short Film Festival, Ji.hlava International Documentary Film Festival, and Camden International Film Festival. Essays about her work have recently been published in Millennium Film Journal and the Brooklyn Rail. Drummer lives and works in Brooklyn, NY.
100 Ways to Cross the Border. HD. Excerpt from 84 minute film. 2022.
Amber Bemak
A self-reflexive documentary on the extraordinary Mexican/Chicanx performance artist Guillermo Gómez-Peña and his troupe La Pocha Nostra's 40-year career of radical artistic practice and work in defying and queering geopolitical and cultural borders.
Bemak is a filmmaker, artist, and educator whose creative practice is based in experimental and documentary film. She often works cinematically and performatively with her own body to represent different symbolic cultural codes and structures of power. Her work has been seen at venues including the Brooklyn Museum, the Rubin Museum of Art, SculptureCenter, the Schwules Museum, and the Tamayo Museum. Festivals include Oberhausen, BAMcinemafest, Sheffield Docfest, Ann Arbor, DocLisboa, Morelia, and the European Media Art Festival. She has taught film theory and practice in India, Nepal, Kenya, Mexico, and the United States.