The New Wave of Public Art: Art on the Marquee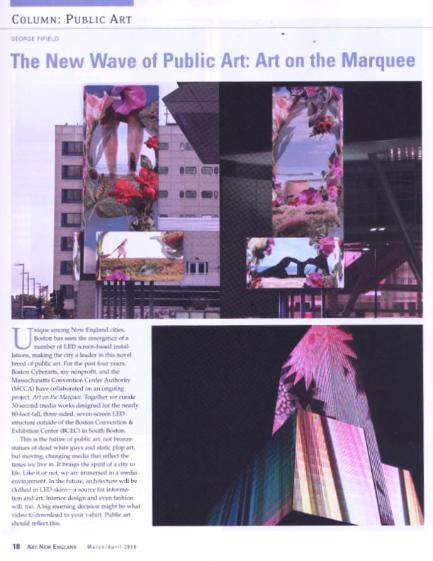 I'm honored to have my work mentioned in a March/April Art New England article about Boston's leadership in screen-based public art. George Fifield, founding director of Boston Cyberarts, highlights the collaboration between Boston Cyberarts and the Massachusetts Convention Center Authority on Art on the Marquee. The ongoing project curates short media works designed for the nearly 80-foot-tall, three-sided, seven-screen LED structure outside of the Boston Convention & Exhibition Center in South Boston.
"This is the future of public art, not bronze statues of dead white guys and static plop art, but moving, changing media that reflect the times we live in. Unique among New England cities, Boston has seen the emergence of a number of LED screen-based installations, making the city a leader in this novel breed of public art." writes Fifield.
I've produced two commissions for the Marquee.
(Pictured in image: the work of artist Ellen Wetmore),