Awarded MCC Fellowship in Sculpture/Installation!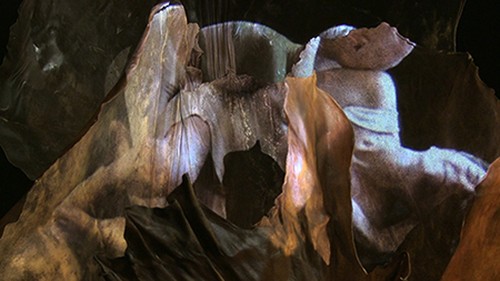 I'm thrilled and honored to have been awarded a 2013 Massachusetts Cultural Council Fellowship in Sculpture and Installation. Sculptor Rosalyn Driscoll and I received the award for our collaborative project Poetics of Skin. Roz created the sculpture which receives the video projection I made.
Poetics of Skin is part of an ongoing investigation Roz and I are undertaking, together and individually, into the boundaries of the body, the transformation of matter, and the thin line between human and non-human animals. Working back and forth between the human body and animal skin (both wet and raw, and also dried as rawhide), we deconstruct these boundaries, forefronting the seamlessness between material realities. The installation in the video (one permutation of our evolving work-in-progress), consists of three translucent dried rawhide cow skins arranged to receive the looping projections of a 10-minute video. A man and a woman move together in an intimate, fluid dance. The spaces between the hides create gaps so the projected images of the two bodies fragment and multiply as they fall on successive hides. The figures, roughly life-size, appear on the surfaces of the hides but are also transmitted through the amber-colored skins. This doubling allows one to see the moving images on both sides, creating subtly different qualities and multiplying the relations. People can walk around and between the hides, resulting in shifting spatial, visual effects and providing yet another skin to receive the moving images.We are exploring the bonds, boundaries and breaches between people and between static sculpture and moving images.